Compliance is a huge field that requires a lot of experience and knowledge. Both of these normally need years to collect but could be lost in a short time. The Campus can help You strategically identify, structure and secure your expertise within the company.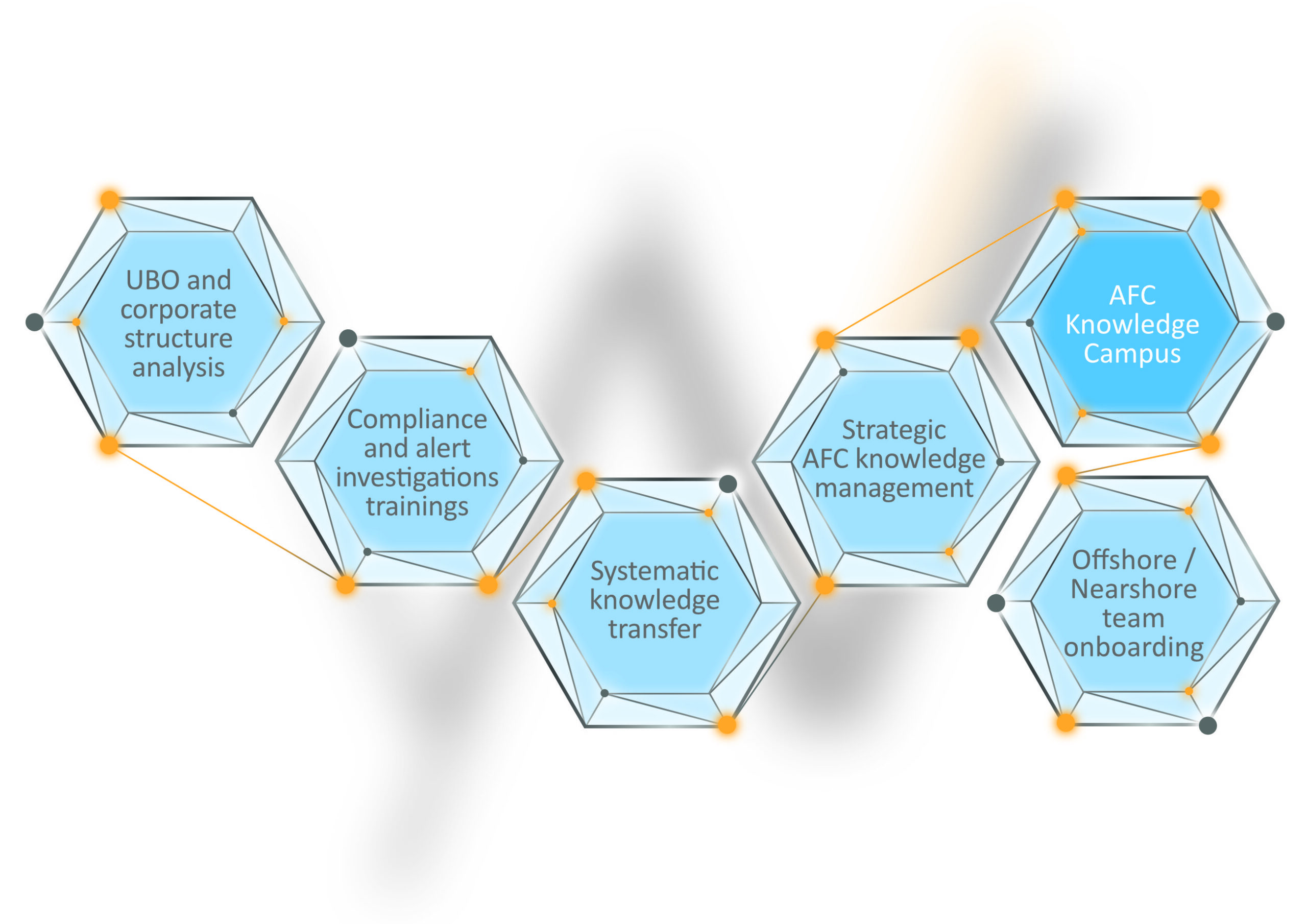 UBO and corporate structure analysis
To ensure compliance, we help your organization to apply knowledge and methods to identify as well as to verify ultimate beneficial owners (UBOs) to meet the 4MLD AML law (transparency register) requirement in UK and EU regions. Additionally, we provide knowledge transfer on conducting due diligence checks for corporates and continuously monitor UBO changes, complying with the required laws as per relevant jurisdictions.
Compliance and alert investigations trainings
Including all the right employees and addressing them with the right content is crucial. To achieve this, we offer trainings focusing on key financial crime areas, methods of prevention and also a best practictes for detection investigations.
Systematic knowledge transfer
Sharing information and expertise in your business will encourage your innovation and boost efficiency. Our systematic knowledge transfer program gives you a strong foundation for developing teams and streamlining functional changes. With a step-by-step strategy you can gather knowledge in a sustainable way within your organization and transfer it in a smart way to those who need it.
Strategic AFC knowledge management
A strategic knowledge management attitude is necessary to achieve Your business´ goals and also a sustainable competitive advantage. We support You in setting up processes and infrastructures to acquire, create and share knowledge, formulate strategies and make strategic decisions.
Offshore / Nearshore team onboarding
With a well-structured knowledge management, You can ensure an effortless onboarding process for all Your teams world-wide. Our expertise relies in helping You in this organization and providing you with a tool where team members can enjoy an easy and quick access to the pool of information.